Arnica (Arnica chamissonis)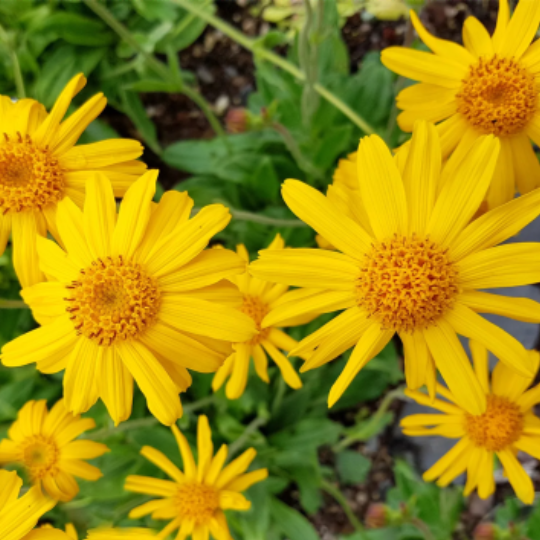 Arnica (Arnica chamissonis)
Arnica originates from the American West. Once implanted, this beautiful hardy plant will form beautiful covering mats. Its yellow flowers will provide excellent pasture for bees and butterflies. It is sometimes called "fall grass" ... arnica is a particularly effective remedy, for external use, to relieve hematomas, inflammations and other sprains. Difficult and slow germination, needs light to germinate.

BOTANICAL INFORMATION
Latin name: Arnica chamissonis
Common names: Arnica Chamissonis, Arnica de Chamisso, Plains Arnica, Falls Grass
English: chamisso arnica
Family: Asteraceae

MAINTENANCE AND OTHER CONSIDERATIONS
Sowing is relatively difficult. The plant prefers to do the following: Do not cover, just press them into the soil gently, as they need light to germinate. Sow in early spring indoors. Transplant the seedlings into individual pots as soon as the first true leaf appears and plant them after the last expected frost.
Plant type

:

Perennial
Quantity

:

Envelope of about 100 seeds
Exposure

:

Half shade
Shape

:

Crawling
Soil

:

Fresh
Watering

:

Frequent
Sowing

:

Inside
Plantation

:

In the garden after the risk of frost
Germination

:

30 days
Plant spacing

:

30 cm
Row spacing

:

30 cm
Depth

:

On the surface
Width

:

50 cm
Height

:

50 cm
Flowering

:

Second year
Color

:

Yellow
Family

:

Asteraceae
Characteristic

:

Melliferous
RETURN AND EXCHANGE
For the return of a purchased product: if you are not satisfied with your product or if you think there is an error in your order, do not hesitate to contact us at any time by email.