Casper eggplant (Solanum melongena)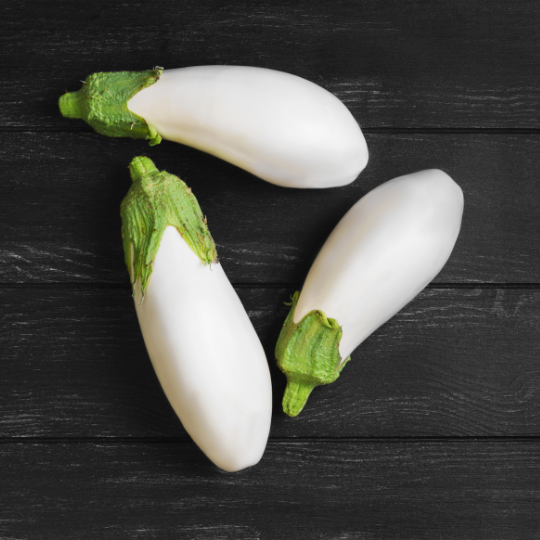 Casper eggplant (Solanum melongena)
Invite the friendly ghost into your garden! This variety of aubergine produces fruits which by their oval shape and, above all, their white color are reminiscent of the famous ghost. These fruits are abundant, and mature quickly. Full of small ghosts, about 25 cm! The taste of Casper eggplant is sweet and aromatic, with a small note reminiscent of mushrooms, and its flesh is tender. It cooks wonderfully in soups, stews, roasts, ratatouilles, with other vegetables, or simply fried. It will do just as well in pots on the balcony as in the ground.

**The germination rate being lower this year, the quantity of seeds in the bag has been doubled**

BOTANICAL INFORMATION
Latin name: Solanum melongena
Common name: Eggplant
English: Eggplant
Family: Solanaceae

MAINTENANCE AND OTHER CONSIDERATIONS
Benefits from staking to prevent the branches from breaking under the weight of the fruit.
Plant type

:

Annual
Quantity

:

Envelope of about 30 seeds
Exposure

:

Full sun
Shape

:

Erected
Soil

:

Well drained
Watering

:

Regular
Sowing

:

Inside
Plantation

:

In the garden after the risk of frost
Days to maturity

:

65 days
Germination

:

7 to 10 days
Plant spacing

:

45 cm
Row spacing

:

75 cm
Depth

:

0.5 cm
Width

:

40 cm
Height

:

65 cm
Color

:

blanc
Family

:

Solanaceae
RETURN AND EXCHANGE
For the return of a purchased product: if you are not satisfied with your product or if you think there is an error in your order, do not hesitate to contact us at any time by email.