Oregano (Origanum vulgare)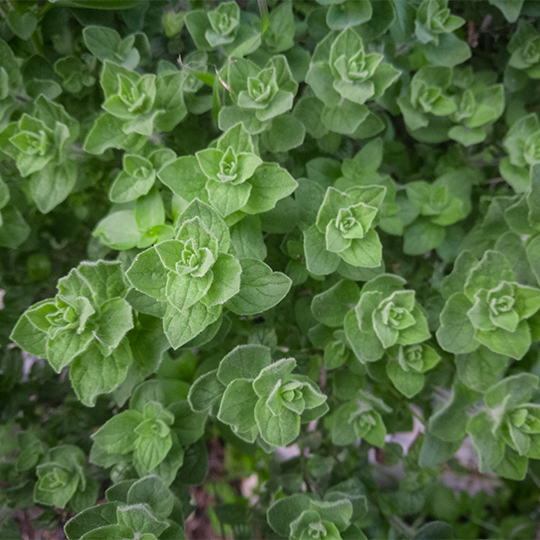 Oregano (Origanum vulgare)
Oregano is an aromatic, bushy plant that is a must in any garden. She is native to Eurasia. A bee plant also called perennial marjoram, oregano forms a dense, easy-to-grow bush. The plant produces pretty purple flowers. Its fragrant leaves can be used as condiments on your pizzas, sauces and soups. In addition to being delicious, oregano is appreciated for its antiseptic, antispasmodic, appetizing, digestive, diuretic and tonic properties. Savor its dried flowers in herbal teas in winter tonic and digestive, they will cuddle you while waiting for the beautiful season!

BOTANICAL INFORMATION
Latin name: Origanum vulgare
Common names: oregano, perennial marjoram, red tea, bastard thyme, shepherd's thyme
English: Oregano
Family: Lamiaceae

MAINTENANCE AND OTHER CONSIDERATIONS
This perennial can stay in place for about 10 years, prune into shape in the spring if necessary. It is possible to multiply oregano plants by division • Take a subject that is already at least one year old. • With a spade, cut the root ball in 2. • transplant the oregano plant in the desired location. That's all !
Plant type

:

Perennial
Flower color

:

Pink
Quantity

:

Envelope of about 200 seeds
Exposure

:

Full sun
Shape

:

Bushy
Soil

:

Light
Watering

:

Regular
Sowing

:

In bucket
Plantation

:

In the garden after the risk of frost
Days to maturity

:

85 to 100 days
Germination

:

7 to 21 days
Plant spacing

:

30 cm
Row spacing

:

40 cm
Depth

:

On the surface
Width

:

60 cm
Height

:

50 cm
Color

:

Green
Family

:

Lamiaceae
RETURN AND EXCHANGE
For the return of a purchased product: if you are not satisfied with your product or if you think there is an error in your order, do not hesitate to contact us at any time by email.