Round Sorrel ( Rumex scutatus)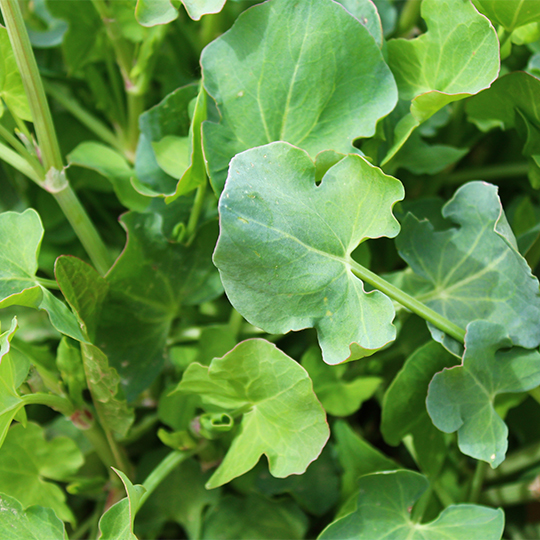 Round Sorrel ( Rumex scutatus)
Round sorrel is a perennial ground cover plant that does well along walkways or on rocky ground. This variety of sorrel is a tender green sometimes speckled with silver. Its small leaves with a tangy and slightly lemony taste, very popular with children, are very pleasant in salads, sandwiches or for concocting sauces. You can harvest the very tender young leaves which are excellent fresh, or the more mature ones which can be cooked like spinach. The leaves, once harvested, keep well by freezing.

BOTANICAL INFORMATION
Latin name: Rumex scutatus
Common names: Round sorrel, patch sorrel
English: French sorrel, buckler sorrel, shield-leaf sorrel, Lemony sorrel
Family: Polygonaceae

MAINTENANCE AND OTHER CONSIDERATIONS
Contains oxalic acid, do not consume in large quantities.
Plant type

:

Perennial
Flower color

:

Pink
Quantity

:

Envelope of about 55 seeds
Exposure

:

Half shade
Shape

:

In rosette
Soil

:

Indifférent PH
Watering

:

Abundant
Sowing

:

Inside
Plantation

:

In the garden after the risk of frost
Germination

:

7 to 10 days
Plant spacing

:

30 cm
Depth

:

1 cm
Width

:

45 cm to 60 cm
Height

:

45 cm to 60 cm
Family

:

Polygonaceae
Characteristic

:

Aromatic
RETURN AND EXCHANGE
For the return of a purchased product: if you are not satisfied with your product or if you think there is an error in your order, do not hesitate to contact us at any time by email.