Clary sage (Salvia sclarea)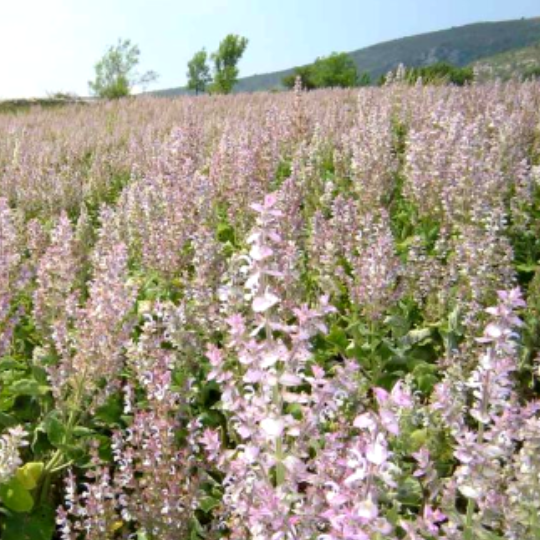 Clary sage (Salvia sclarea)
Clary sage is a perennial condiment and ornamental plant very honey-rich with white flowers tinged with purplish blue. It is used like sage officinalis but it is preferable to use the clary with the officinalis in long cures. In popular medicine, the leaves are used to heal wounds. It has been cultivated since ancient times for its medicinal properties. However, you have to wait until the 2nd year to see it bloom and see the carpenter bees and the gassed sphinxes who adore it gorge themselves with nectar.

Its leaves can be harvested throughout the beautiful season.

BOTANICAL INFORMATION
Latin name: Salvia sclarea
Common name: Clary sage
English: Clary Sage
Family: Lamiaceae

MAINTENANCE AND OTHER CONSIDERATIONS
Sage is easy to grow, it requires no amendments or watering. Perennial with evergreen foliage, may require winter protection depending on the zoning of your region.
Plant type

:

Perennial
Flower color

:

Pink
Quantity

:

Envelope of about 30 seeds
Exposure

:

Half shade
Shape

:

Shrub
Soil

:

Well drained
Watering

:

At planting
Sowing

:

Inside
Plantation

:

In the garden after the risk of frost
Germination

:

7 to 10 days
Plant spacing

:

50 cm
Row spacing

:

0.5 m
Depth

:

5 mm
Width

:

50 cm
Height

:

1 m to 1,5 m
Rusticity

:

Zone 3
Family

:

Lamiaceae
RETURN AND EXCHANGE
For the return of a purchased product: if you are not satisfied with your product or if you think there is an error in your order, do not hesitate to contact us at any time by email.