Shiso (Perilla frutescens)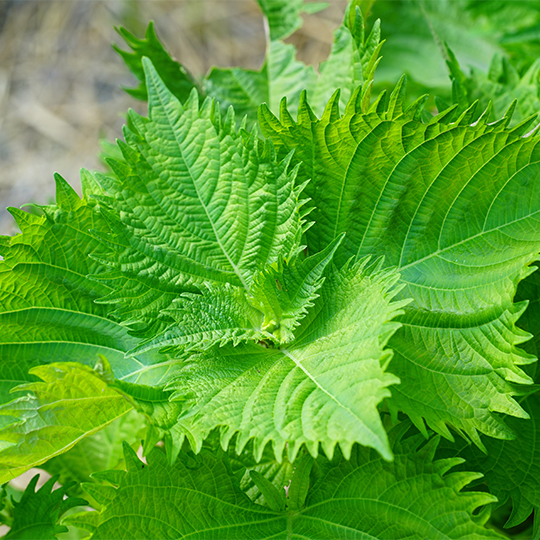 Shiso (Perilla frutescens)
Shiso is an aromatic plant native to Southeast Asia. Its pronounced and spicy fragrance is reminiscent of cumin. Beautiful vigorous plant, its leaves were traditionally used for sushi, soups and tempura. They can be used fresh like basil or in hot dishes. The leaves can be picked throughout the summer. Its small white flowers which arrive later in the season can be used as a decorative condiment.

BOTANICAL INFORMATION
Latin name: Perilla frutescens
Common names: Shiso, Perilla, Chinese green perilla, Chinese basil
English: Shiso
Family: Lamiaceae

MAINTENANCE AND OTHER CONSIDERATIONS
If you want to harvest seeds for the following season, it is preferable to leave it early enough for indoor sowing to allow it to complete its cycle.
Plant type

:

Annual
Quantity

:

Envelope of about 70 seeds
Exposure

:

Half shade
Shape

:

Bushy
Soil

:

Fresh
Watering

:

Regular
Sowing

:

In bucket
Plantation

:

In the garden after the risk of frost
Days to maturity

:

80 to 85 days
Germination

:

14 to 21 days
Plant spacing

:

Lighten to 60 cm
Row spacing

:

0.5 m
Depth

:

5 mm
Width

:

60 cm
Height

:

60 cm to 90 cm
Color

:

Green
Family

:

Lamiaceae
RETURN AND EXCHANGE
For the return of a purchased product: if you are not satisfied with your product or if you think there is an error in your order, do not hesitate to contact us at any time by email.