Woodland Tobacco (Nicotiana sylvestris)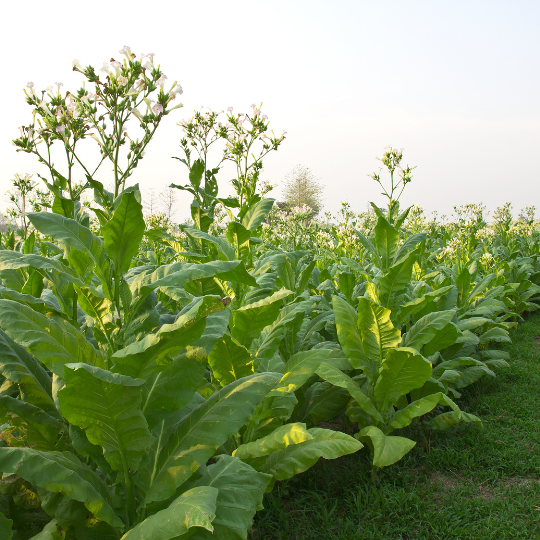 Woodland Tobacco (Nicotiana sylvestris)
There are several varieties of tobacco, but among all of them, wild tobacco stands out as a giant. The plant is growing rapidly. The erect stems can branch. They have large, long, oblong, light green leaves, while the flowers, grouped in tight panicles, are a beautiful pure white. As night falls, their scent intensifies and attracts moths.


BOTANICAL INFORMATION
Latin name: Nicotiana sylvestris
Common names: Giant tobacco or sylvatic tobacco
English: Woodland tobacco, flowering tobacco, South American tobacco
Family: Solanaceae

MAINTENANCE AND OTHER CONSIDERATIONS
If you are planting tobacco for leaf harvest, remove the flowers. The leaves are picked when yellow or brown. If you want to collect seeds and leave food for pollinators, let the flowers bloom. You can also harvest the leaves, but there will be fewer of them.
Plant type

:

Annual
Flower color

:

White
Quantity

:

Envelope of about 200 seeds
Exposure

:

Full sun
Shape

:

Erected
Soil

:

All types of soils
Watering

:

Regular
Sowing

:

Inside
Plantation

:

In the garden after the risk of frost
Days to maturity

:

65 to 70 days
Germination

:

7 to 15 days
Plant spacing

:

45 cm
Row spacing

:

40 cm to 50 cm
Depth

:

On the surface
Width

:

45 cm
Height

:

1,5 m to 2 m
Family

:

Solanaceae
RETURN AND EXCHANGE
For the return of a purchased product: if you are not satisfied with your product or if you think there is an error in your order, do not hesitate to contact us at any time by email.