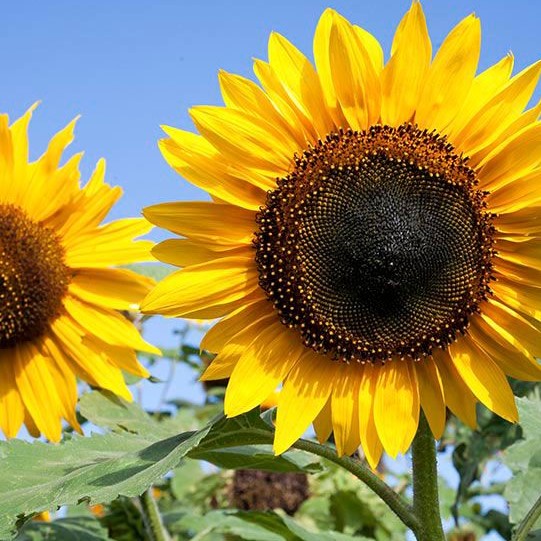 Hopi Black Dye Sunflower
Hopi Black Dye sunflowers grow tall and strong, and their flower have sunny yellow petals with a dark purple center. This sunflower variety comes from the Hopi, a Native American tribe, who used it for dyeing. They used it to create grey and purples hues on their basketry and textiles, like cotton and wool. The seeds are edible for humans and birds, and are rich and easy to shell.

CARE AND OTHER CONSIDERATIONS : Towards the end of September, sunflower seeds start to reach maturity. The stem dries up and the flower starts to bend down. It's time to harvest! Cut the entire flower heads. Let them dry in a dry space. Check regularly to make sure the sunflowers are not getting moldy. After a few days, the seeds will sound 'hollow' and 'dry' when running your fingers over them. You then only need to rub over to remove what's left of the flowers, and scratch with your fingers to detach the seeds.
Plant type

:

Annual
Flower color

:

Yellow
Quantity

:

Envelope of about 20 seeds
Exposure

:

Full sun
Soil

:

Rich
Watering

:

Undemanding
Sowing

:

Inside
Plantation

:

In the garden after the risk of frost
Days to maturity

:

110 days
Germination

:

7 à 12 jours
Plant spacing

:

40 cm to 50 cm
Row spacing

:

1 m
Depth

:

1 cm to 2 cm
Width

:

50 cm to 75 cm
Height

:

2 à 3 m
Family

:

Asteraceae
RETURN AND EXCHANGE
For the return of a purchased product: if you are not satisfied with your product or if you think there is an error in your order, do not hesitate to contact us at any time by email.