Gold Medal Tomato (Solanum lycopersicum 'Gold Medal')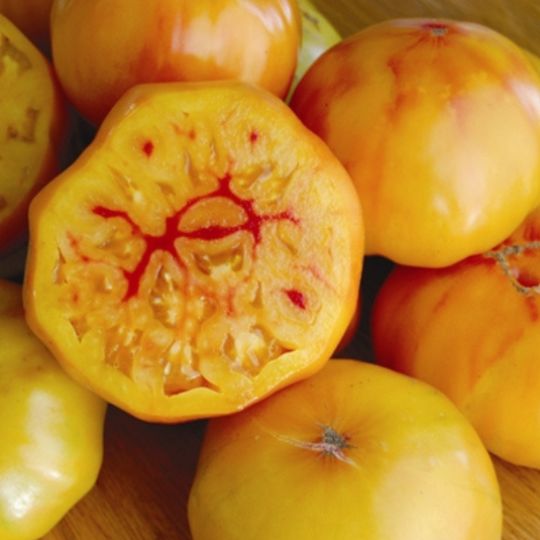 Gold Medal Tomato (Solanum lycopersicum 'Gold Medal')
Two-tone tomato with large, very sweet marbled fruits. Its firm, rosy, acid-free flesh has won several gastronomic competitions in the United States. The yellow fruit takes on a red and orange color as it ripens. This old variety was introduced in 1921, in New York, under the name of Ruby Gold. It was renamed Gold Medal by the American seed company Ben Quisenberry in 1976.

MAINTENANCE AND OTHER CONSIDERATIONS
Gradually acclimate to outdoor conditions about 10 days before planting by taking them out during the day. Lay the plants horizontally, slightly arching the plant to bring the leaves out.
Plant type

:

Annual
Quantity

:

Envelope of about 30 seeds
Exposure

:

Full sun
Shape

:

Herbaceous
Plantation

:

In the garden after the risk of frost
Days to maturity

:

75 to 90 days
Germination

:

7 to 10 days
Plant spacing

:

45 cm
Row spacing

:

70 cm
Depth

:

5 mm
Width

:

45 cm with tutor or 60 cm if left on the ground
Height

:

70 cm
Type of growth

:

Indeterminate growth
Family

:

Solanaceae
RETURN AND EXCHANGE
For the return of a purchased product: if you are not satisfied with your product or if you think there is an error in your order, do not hesitate to contact us at any time by email.