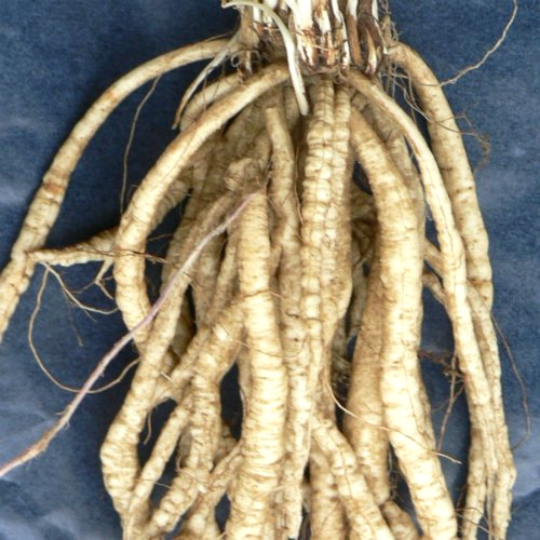 Chervis (Sium sisarum)
The roots, whose very sweet taste is reminiscent of parsnips, are eaten cooked. Popular even at the royal table until the 17th century, the chervis gradually fell into oblivion. It was probably a victim of the success of carrots or beets, the selection of which underwent spectacular improvements over time. But for the permaculture vegetable garden, it's a must! Easy to grow, the soft white flesh of its roots will make it popular again. Harvesting can be done in early spring before the plant has started growing or in the fall. Like the carrot, a first frost can make the roots sweeter. Harvest time is also the time to divide the plant for the next season. *Must have a cold period in the refrigerator, see information below.;Here is a recipe from 1460"Take skirrets, parsnips and apples, and parboil them. Make a batter of flour and eggs. Cast ale, saffron and salt into it. Wet them in the batter and fry them in oil or in grease. Pour on almond milk and serve it forth.

BOTANICAL INFORMATION
Latin name: Sium sisarum
Common names: Chervis, berle des bergers, chirouis, girole
English: Skirret
Family: Apiaceae

MAINTENANCE AND OTHER CONSIDERATIONS
The chervis likes to have its feet cool and the development of its roots requires regular watering. Also, mulch the feet as soon as the temperatures warm up. And do not hesitate to water!
Plant type

:

Perennial
Flower color

:

White
Quantity

:

Envelope of about 150 seeds
Exposure

:

Full sun
Shape

:

Herbaceous
Soil

:

Rich
Watering

:

Frequent
Sowing

:

Inside
Plantation

:

In the garden after the risk of frost
Days to maturity

:

2 years
Germination

:

1 month
Plant spacing

:

Lighten to 20 cm
Row spacing

:

30 cm
Depth

:

5 mm
Width

:

30 cm
Height

:

1,5 m
Color

:

blanc
Family

:

Apiaceae
RETURN AND EXCHANGE
For the return of a purchased product: if you are not satisfied with your product or if you think there is an error in your order, do not hesitate to contact us at any time by email.