Italian Pink Tomato (Solanum lycopersicum)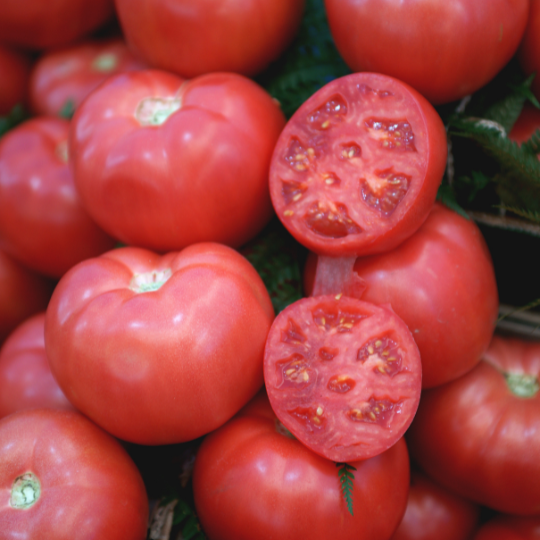 Italian Pink Tomato (Solanum lycopersicum)
Here is a dark pink tomato that originates from the bottom of the St. Lawrence River and more specifically from Rivière-du-Loup. The seeds come from Madame Francine Mailloux. She gave some to Mr. René Paquet, who presented them to Michel Richard from the Potager d'Antan, who gave them to me. And you'll soon have them in your garden! Called a "hefty" plant by René Paquet, he adds that the indeterminate plant will have a "big yield" with fruits "with red skin and pink flesh". These will weigh, in general, between 400 and 850 grams but can go beyond for some specimens. To find out more, visit the Potager d'antan website.

BOTANICAL INFORMATION
Latin name: Raphanus sativus
Common names: White-tipped radish
English: French Breakfastradish
Family: Brassicaceae

CARE AND OTHER CONSIDERATIONS: Gradually acclimate to outdoor conditions about 10 days before planting by taking them out during the day. When planting, lay the plants horizontally, arching them slightly to bring out the leaves upwards.
Plant type

:

Annual
Quantity

:

Envelope of about 30 seeds
Exposure

:

Full sun
Shape

:

Herbaceous
Soil

:

Well drained
Watering

:

In dry weather
Sowing

:

Inside
Plantation

:

In the garden after the risk of frost
Days to maturity

:

70 days
Germination

:

7 to 10 days
Plant spacing

:

45 cm
Row spacing

:

70 cm
Depth

:

5 mm
Width

:

45 cm with tutor or 60 cm if left on the ground
Height

:

1,2 m
Type of growth

:

Indeterminate growth
Color

:

Red
Family

:

Solanaceae
RETURN AND EXCHANGE
For the return of a purchased product: if you are not satisfied with your product or if you think there is an error in your order, do not hesitate to contact us at any time by email.