Apios americana (Rosary Potato) (Apios americana)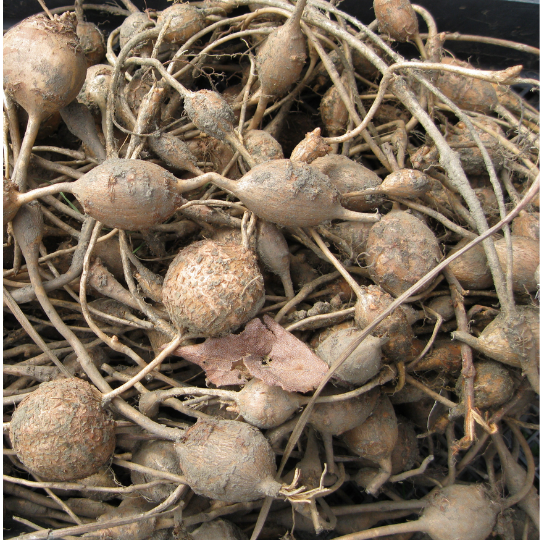 Apios americana (Rosary Potato) (Apios americana)
** CANNOT BE SHIPPED OUTSIDE OF CANADA **

KEEP REFRIGERATED FROM RECEIVING TO PLANTING!
Perennial climbing plant native to Quebec. It belongs to the legume family. It is suitable for banks and shores, but also for cultivated gardens. With its very fragrant flowers, it is reminiscent of wisteria. It is also called tuberous glycine. Its other name, wild bean, refers to the edible bean produced (in a favorable climate) by its flowers. Its tubers, also edible, are connected to each other by a vine root, hence its name of potato in a string. It was widely consumed by First Nations. Nowadays, it is not uncommon to see it growing on the site of former Native American villages. Very nutritious (it contains up to 18% protein, three times more than potatoes), it can be eaten boiled or fried. On the other hand, the peel contains latex, so it must be peeled.

*Note Rare people may be indisposed by consumption
Package 8 tubers of small size.
Germination rate 100%

For spring orders, plant in pots until you have access to the ground and can transplant them outside. Each tuber can germinate and give a plant. Cut the rosary into as many parts as it contains tubers. Place each tuber in a flat position, about 5-6 cm deep, much like you would a potato. (However, the Apios does not cut into several pieces like the latter).
You can mulch lightly, the stem will pass through a mulch. Stake.

After two weeks, a frail stem will emerge from the ground. It will roll up like a bean.
Harvest in the fall. When the leaves are dry, dig up the tubers with a pitchfork. A single tuber will give two to three "chains".
You will have to dig a little further than where you planted. Put a single tuber back in the same place in anticipation of next year's harvest. Mulch. Apios americana is very resistant to Quebec winters.

Taste the rest. Be sure to peel and boil or fry well before eating, as the peel contains latex, which can cause stomach bloating.
Plant type

:

Perennial
Quantity

:

Pack of about 8 tubers
Soil

:

All types of soils
Sowing

:

Directly in the garden
Color

:

Brown
RETURN AND EXCHANGE
For the return of a purchased product: if you are not satisfied with your product or if you think there is an error in your order, do not hesitate to contact us at any time by email.