Sunflower (Helianthus annuus)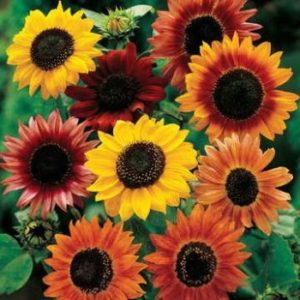 Sunflower (Helianthus annuus)
Mixed sunflowers.;The word "sunflower" is borrowed from the Italian girasole, "which rotates with the sun". There are many names or vernacular expressions for it: great sun, garden sun, common sun, parrot seed, sunflower... The protein-rich seed is an excellent food source for birds and humans. Depending on the variety sown, your sunflower plants will bear a single large flower or several small ones.;Small varieties and very large varieties in a mixture.

CARE AND OTHER CONSIDERATIONS: By the end of September, sunflower seeds are ripening. The stem dries up and the flowers bow their heads. It's time to harvest. Cut off the whole heads. They must then be dried in a dry place. Check often that the sunflower does not rot. After a few days, the seeds will sound "hollow" and "dry" when you run your fingernail over them. You just have to rub to remove the rest of the flowers, and scrape with your fingers to loosen the seeds.
Plant type

:

Annual
Flower color

:

Yellow
Quantity

:

Envelope of about 40 seeds
Exposure

:

Full sun
Soil

:

Rich
Watering

:

Undemanding
Sowing

:

Inside
Plantation

:

In the garden after the risk of frost
Days to maturity

:

55 days
Germination

:

7 to 21 days
Plant spacing

:

40 cm
Row spacing

:

70 cm
Depth

:

1 cm
Width

:

1 m
Height

:

2 m to 3 m
Family

:

Asteraceae
RETURN AND EXCHANGE
For the return of a purchased product: if you are not satisfied with your product or if you think there is an error in your order, do not hesitate to contact us at any time by email.