Common purslane (Portulaca olerecea)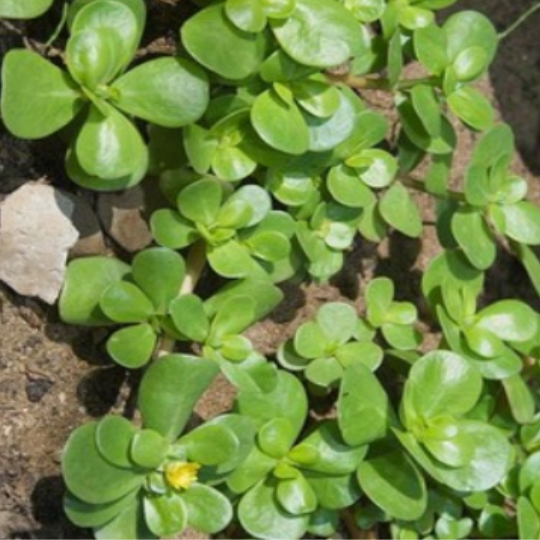 Common purslane (Portulaca olerecea)
Regarding the common purslane, to speak of an ancient vegetable is an understatement, purslane was indeed known to the Egyptians 4000 years ago. Then it was, like many plants, "forgotten". It nevertheless returns to the stalls thanks to market gardeners cultivating ancient vegetables. In salads or mesclun, purslane is eaten fresh, and its leaves, in addition to being very tender, offer you a cocktail of omega 3 and antioxidants. Purslane is emollient and laxative if eaten in large quantities. It is also depurative and diuretic. Chewing a few leaves soothes inflamed gums and minor sore throats.

BOTANICAL INFORMATION
Latin name: Portulaca olerecea
Common names: Vegetable purslane, market garden purslane, porcelain, porchaille
English: Common purslane
Family: Portulacaceae

MAINTENANCE AND OTHER CONSIDERATIONS
Also remember to pinch the stems when they reach 10 cm, to prevent them from spinning without making new branches and new leaves.
Plant type

:

Annual
Flower color

:

Yellow
Quantity

:

Envelope of about 250 seeds
Exposure

:

Full sun
Shape

:

Crawling
Soil

:

All types of soils
Plantation

:

In the garden after the risk of frost
Days to maturity

:

60 to 90 days
Germination

:

10 to 15 days
Plant spacing

:

Lighten to 20 cm
Depth

:

On the surface
Width

:

20 cm to 30 cm
Height

:

15 cm to 30 cm
Family

:

Portulacaceae
RETURN AND EXCHANGE
For the return of a purchased product: if you are not satisfied with your product or if you think there is an error in your order, do not hesitate to contact us at any time by email.