Jean-Léo Collard climbing bean (Phaseolus vulgaris)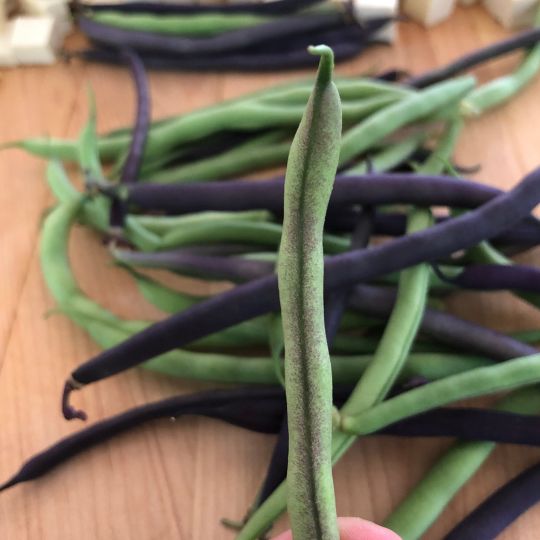 Jean-Léo Collard climbing bean (Phaseolus vulgaris)
At a Seed Festival, I sat next to a friendly-looking old man. Soon we started discussing seeds and commenting on our purchases and finds! This is how a beautiful friendship was born that lasted more than ten years. Terre Promise was only in its infancy, and very quickly Jean-Leo Collard embarked on the project by tinkering with us an incalculable number of tools and machines specific to seed cleaning and bagging. He marveled at the generous harvests of the farm, he loved to talk about gardening and above all, he took me to eat at his favorite restaurant, Chez Willinsky. Jean reassured me in the darkest moments, when it's difficult to be an entrepreneur and I wanted to screw everything up... He believed in the Promised Land. Jean left us this fall 2021 at the end of a full life. In his honor, we decided to name a variety of beans developed on the farm for a few years, a mixture of the dwarf bean Velor and an unknown climbing bean. The Jean Léo Collard climbing bean has a beautiful deep purple color, sometimes mottled with green. It is cordless, quite long and very thin, crunchy to the bite. We are very proud of it! Thank you Jean for your unconditional support and friendship. Garden in peace.

BOTANICAL INFORMATION
Latin name: Phaseolus vulgaris
Common name: Pole bean
English: Pole Bean
Family: Fabaceae

MAINTENANCE AND OTHER CONSIDERATIONS
Request a tutor.
Plant type

:

Annual
Quantity

:

Envelope of about 30 seeds
Exposure

:

Full sun
Shape

:

Climbing
Soil

:

All types of soils
Watering

:

Regular
Sowing

:

Directly in the garden
Plantation

:

In the garden after the risk of frost
Days to maturity

:

45 days fresh, 100 days dry
Germination

:

5 to 15 days
Plant spacing

:

15 cm
Row spacing

:

30 cm to 35 cm
Depth

:

2 cm
Width

:

20 cm
Height

:

2,5 m
Color

:

Violet
Family

:

Fabaceae
RETURN AND EXCHANGE
For the return of a purchased product: if you are not satisfied with your product or if you think there is an error in your order, do not hesitate to contact us at any time by email.