Pepper Jimmy Nardello (Capsicum annuum)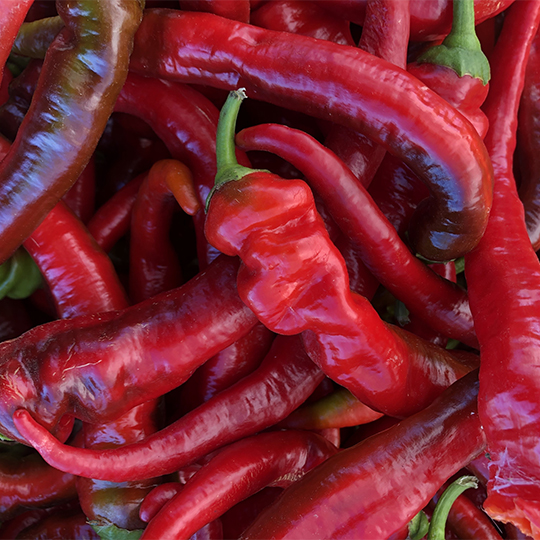 Pepper Jimmy Nardello (Capsicum annuum)
Jimmy Nardello peppers come from the region of Basilicata in southern Italy. This region has been home to a rich culture of peppers for generations. It was born in the family garden of Giuseppe and Angella Nardiello, in the 19th century. They emigrated to Connecticut in 1887 with all their children, taking with them the seeds of the long, bright red, thin-skinned pepper they grew in their village. became an avid gardener. He continued to grow the heirloom seeds that his parents had kept all his life. Shortly before his death in 1983, he donated his pepper seeds to Seed Savers Exchange and they became famous among farmers. The Jimmy Nardello pepper is considered one of the best frying peppers because its flesh fruity becomes creamy and soft when fried. It is delicious fresh but can also be dried. At maturity it is deep red, its elongated body often bends and twists as it grows.

BOTANICAL INFORMATION
Latin name: Capsicum annuum
Common name: Jimmy Nardello pepper
English: Jimmy Nardello Hot Pepper
Family: Solanaceae

MAINTENANCE AND OTHER CONSIDERATIONS
Does not tolerate cold.
Plant type

:

Annual
Quantity

:

Envelope of about 30 seeds
Exposure

:

Full sun
Shape

:

Erected
Soil

:

Well drained
Sowing

:

Inside
Plantation

:

In the garden after the risk of frost
Days to maturity

:

70 days
Germination

:

10 to 20 days
Plant spacing

:

40 cm
Row spacing

:

60 cm
Depth

:

5 mm
Width

:

30 cm
Height

:

40 cm
Color

:

Red
Family

:

Solanaceae
RETURN AND EXCHANGE
For the return of a purchased product: if you are not satisfied with your product or if you think there is an error in your order, do not hesitate to contact us at any time by email.